Home
About Us
Yorkie Shoppe
Looking for Love
How You Can Help
Forever Ours
In Memoriam Page
Happy Tails
Thank You
Rainbow Bridge
Board of Directors
F.A.Q.
Volunteer Application
Non-Fostering Volunteer Application
Adoption Application
Request to Surrender
Links
Videos & Slideshows
Counter
5129232
RAINBOW BRIDGE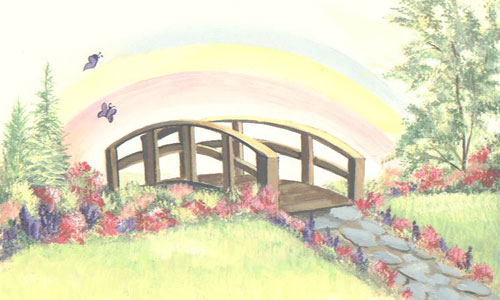 The Rainbow Bridge
Just this side of heaven is a place called Rainbow Bridge.
When an animal dies that has been especially close to someone here, that pet goes to Rainbow Bridge. There are meadows and hills for all of our special friends so they can run and play together. There is plenty of food, water and sunshine, and our friends are warm and comfortable.
All the animals who had been ill and old are restored to health and vigor. Those who were hurt or maimed are made whole and strong again, just as we remember them in our dreams of days and times gone by. The animals are happy and content, except for one small thing; they each miss someone very special to them, who had to be left behind.
They all run and play together, but the day comes when one suddenly stops and looks into the distance. His bright eyes are intent. His eager body quivers. Suddenly he begins to run from the group, flying over the green grass, his legs carrying him faster and faster.
You have been spotted, and when you and your special friend finally meet, you cling together in joyous reunion, never to be parted again. The happy kisses rain upon your face; your hands again caress the beloved head, and you look once more into the trusting eyes of your pet, so long gone from your life but never absent from your heart.
Then you cross Rainbow Bridge together....
Author unknown...
Oscar

10/15/19 Sadly today we helped Oscar to the Rainbow Bridge. He began having seizures back to back that could no longer be controlled with medication. Rest in Peace dear Oscar...you were loved at the last and hope you felt that love from your foster mom who fought so hard to get you well.
Top of page
Sebastian Issac

10-13-19

Sebastian Issac passed over the rainbow bridge today. He came into the rescue after he was saved from a kill shelter. He fought hard but was so small and his kidneys were falling him. But his foster mom gave him all the love she could in his final days. He knew he was loved. And now he is a peace able to run and play with all the other babies who have passed before him.
Top of page
Benny

09/30/19

My heart is breaking today my sweet Benny Boo crossed the bridge. He was a precious boy and such a blessing. I am so happy that he is no longer in pain or confused. He is now able to run and play and enjoy his everafter. Thank you to everyone who sent him love and support. You are so appreicated.
Top of page
Derby

9/23/19 Sadly Derby was helped to the Rainbow Bridge today. His condition worsened and he was found unresponsive the previous day. He was evaluated at an emergency clinic and seen by his neurologist who agreed it was time to let him go.
Top of page
Peanut

9/4/19 Sadly today we had to help Forever Ours Peanut to the bridge. She had developed bladder cancer and despite medication began to fail in the last week. Rest in Peace Peanut...you had 5 years in rescue and were loved every minute of that time.
Top of page
Missy WI

8/30/19 Sadly Missy had to be helped to the bridge today. Rest in peace Missy and run free and healthy again.
Top of page
Precious

8/26/19 Precious crossed over the Rainbow Bridge today.
Top of page
Bailey

8/19/19 Sadly Bailey passed today after complications from a dental procedure. She had developed pneumonia and her heart began to fail. She spent two days in emergency care but there was nothing they could do to save her.
Top of page
TN Milo

07/25/19

Milo went for his shunt surgery on Wednesday. He came thru surgery and I thought he was on the road to recovery. I received a call around 8:30 last night telling me that he was having trouble keeping his blood pressure up and regulating his body temperature. The Dr's put him on medication to try to elevate his blood pressure. After several hours and maxing out the dosages he could have I got the call nobody wants to get. Blue Pearl and Dr Wood were great, Dr Wood explained everything to me and what my options were... Milo was a fighter but after exhausting our options it was decided to let him go so that his suffering could end. Not wanting him to be alone I jumped in the car at 1:00am to head to Franklin Blue Pearl so that I could be with Milo in his last hours I wanted him to know he was loved. When I got there they brought him to me and I held him and talked to him, I played lullaby music for him he was able to raise his head a few times and even give me kisses. He passed over the rainbow bridge around 3:30am. I love fostering and each dog that comes into my home becomes a part of my family. I love them dearly and when they go to their forever home they take a piece of my heart with them. They are forever in my heart. Milo was loved so much in the short time he was with me and I pray he knew that and felt my love in his last hours. I brought Milo home with me and he has been buried in our yard. I know not everyone feels the same about pets or animals but he was and will always be a part of my family. He did have major health issues and racked up a significant bill. United Yorkie Rescue is an awesome organization and gave him every chance at life as they do with all rescues they take in... Rescue can sometimes be hard but it is also rewarding to know you helped a sweet baby find his or her forever home. If you can please make a donation in Milo's memory I would be so grateful, no amount is too small or too large please go to our website unitedyorkierescue.org to make a donation. Donations are the only way the rescue is able to help Milo and others like him. Rest In Peace my sweet boy.
Top of page
Buddy

7/23/19 Sadly today we lost Forever Ours Buddy who was approximately 16 years old. His health had declined to the point where he was no longer eating even his favorite foods. He was telling his foster mom it was time to go. Rest in Peace Buddy...you will be dearly missed.
Top of page
Zoey

6/25/19 Sadly last night we had to help sweet little Zoey to the rainbow bridge. While in the specialty hospital her heart failed in the late evening hours. She came back on her own, breathing and with somewhat more normal blood pressure, while on the phone with the vet, her blood pressure began to fall again as did her body temperature. Foster mom and foster dad drove to the clinic and were with her at the end while we helped ease her suffering. Zoey knew at the end she had love and was treasured and we gave her a peaceful end. Rest sweet Zoey, run free and healthy again. You were loved very much by foster mom and dad and all of us at UYR.
Top of page
Maizie

05/30/19

Today, we lost our Sweet Maizie. She no longer is in pain and can run free. I know she is in a better place, but we already miss the pitter patter of her tiny feet and her ice cold ears against our face when we held her tight. This is the very last picture I took of her last night as she was playing. Maizie, you touched everyone you met with that tongue and no jaw in that itty bitty body. We love you so much and always will! Rest In Peace sweet angel! 🐾❤️🐾
Top of page

I had a wonderful life with my foster parents. Thank you for all you did for me.

Bubba

5-24-19 Little Bubba crossed the Rainbow Bridge today. Animal rescue can be so hard sometimes....

Those of you who have been fortunate to meet our sweet, sweet, sweet Bubba Love, will know just how special he was. Bubba came to us (his foster parents) on April 1, 2015, with brain damage from untreated seizures. Not long after his arrival he was deemed to be a forever ours foster. Bubba was our first foster since getting involved in animal rescue, and the first dog we welcomed in our home after our baby Luke passed away.

In September 2016, Bubba was diagnosed with a brain tumor and given 3 to 6 months to live. We opted to have the part of the tumor that was behind his eye (they can't go into the brain), as well as having his eye removed, in hopes to extend his life. Again, we were told 3 to 6 months. However, with a diligent med schedule we were able to keep Bubba seizure free from that day forward. We knew that every day was a gift, and we were able to enjoy his special love for 2 years and 7 months after his surgery. Every day that we woke up to find he was still with us was deemed to be "not today".

Sadly, it is with a broken heart that I must say "today was the day". At 5:00 this afternoon we helped Bubba cross over the rainbow bridge, where he can again run free and be the happy little childlike Bubba we fell in love with. Please keep us (Bubba's foster family) in your thoughts and prayers while we endure this last chapter of Bubba's life. He will be so missed, beyond words. Run free my Bubba Love. Smile with your eyes to all you meet there, for they will fall in love with you too.
Top of page

I am not hurting anymore

Thank you for trying to save me

Callie

5/10/19 It was with tears of sadness that we helped Callie pass over the Rainbow Bridge today. This sweet, sweet, wonderful girl wanted so badly to live, but the cancer was just too much to overcome. Callie only came to United Yorkie Rescue 2 short weeks ago. She was taken from the shelter and rushed to the vet for emergency surgery. The mammary tumor that had been neglected by her owners had burst and needed to be removed immediately. The vet took a look at the burst tumor before doing surgery and said an x-ray had to be done. She was very concerned with that she saw, and what she was awful. The tumor had metastasized into her lungs and her lungs were full of cancer. Callie would never survive the surgery. We had two choices, both were sad. We could put Callie to rest right then, or take her home for however long she has left and give her love and care, medication to keep her pain free, and whatever and as much as she wanted to eat. We knew we had to take Callie home and give her a good life for as long as she had left.

Callie was showing no signs of the cancer effecting her when we took her home. We had been told what to watch for when she started to decline and it would be quick. The vet said she had a month at the most and more likely just days with the extent of the cancer that was everywhere in her lungs. She loved going out and her tail wagged with such joy when she was with us. We felt like she would have much longer than we were told. We hoped our love and care would be enough for a miracle and Callie would live a long time.

Callie did great the first week, though she ate only a small amount she was fed chicken and chop meat, which she nibbled on. She didn't enjoy taking the meds, but they did help her feel better. During the second week she was coughing more and her breathing was getting labored. You could see her poor little chest rising and falling with such effort, and she was eating less. By the end of the second week we knew her time had come. She stopped eating, you could hear the raspiness every time she took a breath, and she was coughing more. We knew we could not let her suffer another minute and with so much sadness we held her and petted her as she quietly passed at the vet's office. She was at peace.

This was such a preventable death. This friendly, happy, sweet girl didn't have to die. If only someone had loved her enough to get her spayed, or if not had taken her to the vet as soon as the mammary tumor appeared and had it removed. Any rescue would have taken this baby if they had been contacted and then gotten her to the vet in time. But instead her owners didn't care enough. They let it grow and grow until it burst and caused the cancer that took her little life. Callie was the victim of such neglect and it didn't have to be that way. She didn't deserve what happened to her.

We will never forget this wonderful little girl. We only got to have her and love her for two weeks, but she left a mark on our hearts we will carry with us forever. We are so sorry Callie girl, we got you too late, but we will never forget you. Rest in Peace sweet baby.
Top of page

Rest In Peace Sweet Izzy

Izzy

04/12/2019

From Izzy's foster Mom

My heart is broken today. My sweet precious forever foster Izzy passed away last night. She was a happy, loving little girl who was my sidekick. She loved meal time, long naps in my office, cuddling and sloppy little kisses. She loved to travel with me where ever I took her. In the short year and a half I had her, her aging body was slowly declining. Kidney failure and congestive heart failure was robbing her spunk and longevity. But she was a fighter and enjoyed every minute of her life despite her health issues. When her time came she didn't suffer. But she has left a huge hole in my heart and life. RIP my sweet Izzy. I love ❤️ you very much.

Thank you United Yorkie Rescue for everything you did for her.
Top of page
Cooper

4/6/19: Cooper is running free at the Rainbow Bridge

I look at his picture and I smile while my heart is absolutely breaking! Cooper came to United Yorkie Rescue as an abandoned precious little boy, sitting in a shelter with a ball in his mouth, not asking for much from any human, just simply love and a someone that would play ball with him!! There he sat, this precious baby with this huge swollen belly, that housed a 3 lb tumor, while another 1 lb tumor lay on the outside along his ribcage...what do we do? Lynne Turner called me after playing with this sweet angel with those words. We were so full, but that face, and that ball in his mouth...what do we do, well, we bring him home and figure this out...so his journey began. We soon realized that nothing was ever "normal" when it came to Cooper. He had a massive 3lb tumor removal along with a partial splenectomy. He healed great and through this major surgery and recovery, never once did he have an accident in the house.. His little body was wrapped up like a taco from such a large incision, but he would get up and get to that door to go potty outside. After healing, Cooper went under again to remove the 1lb tumor that was along his side...again a remarkable heal. Finally we were back for his last checkup before adoption. A final ultrasound and blood work were performed and within minutes he was in for emergency surgery due to his spleen. The vet removed the rest of Cooper's spleen and during surgery it was also noted that his liver looked really bad and angry. Blood work also showed the issue so we started to heal again with diet and meds. A few days later, Cooper peed on the floor. I immediately knew, before we even saw the vet that this sweet baby had diabetes. Normally we can control diabetes, and we do that really well with our dogs, but with Cooper, nothing was normal. Cooper also had developed the most lipemic blood the vets had ever seen. The centrifuge could not spin his blood thin enough for the testing. This meant testing needed to be sent to A&M to their labs. After months of battling his uncontrolled diabetes, it was evident that this was taking a toll on his liver and kidneys. We were also testing Cooper for various diseases that Cooper mimicked with no answers. I consulted with Sandi and Jan and decided Cooper and I should head to A&M to meet with Internal med to hopefully get answers. We came back hopeful with Cooper on a new plan, after learning about "the somogy effect" and diabetes. We also came back with a special compounded medication for his lipemic blood. For a few months we were doing good, then I walked into a nightmare of a sea of urine throughout the entire house. Cooper's glucose was so high it could not be read by machines and his urine had too much glucose to be read as well. After being rushed to the vet, he went overnight to an ER, and then moved at 7am into a critical care facility, Cooper was put on high amounts of IV fluids which flushed this glucose while it brought his levels down and out of his diabetic crisis. Last week Cooper started to act differently and confused. After a vet visit, his glucose revealed his glucose was on the rise and by Friday we were back into crisis. As they were frantically getting him setup, I realized we were at that point where it was my time to help him make his final journey. I told my vet to give him what he needs overnight and I would be there early in the am to bring him home for his final visit. I picked this sweet angel up early and took him outside so he could play with the water hose which he just loved. Cooper got to eat not 1, but 2 bones which he loves, but could not have during these last few months. I sat and loved on him, cried and apologized and told him how amazing he was, and then wrapped him in his blanket and made our way to his vet. I got so many sweet kisses all the way there and in the room as we waited. I think Cooper knew honestly it was time and he was ready as his lil body had fought such an amazing vigorous fight this past year and he was just so tired. I held him and kissed his sweet face as the angels came. Cooper gave me so much. He taught me that even in those darkest hours of pain and confusion, you can find happiness in the most simplest of things. I miss his mushy kisses already and I will miss this sweet baby boy's love for everything in spite of the bittersweet life he was dealt. Run free baby. Thank you UYR for letting me be his momma.
Top of page
Daisy Diamond

3/23/19 Sadly today sweet little Daisy Diamond who had been doing so well passed. This morning she was taken to an ER facility where they worked to find out what the problem was. Her body temp couldn't be sustained and while all other signs were positive, they couldn't keep her going. She was in an incubator and on a heating pad, but sadly despite heroic efforts, she passed. Foster mom is devastated as we all are.
Top of page
Amos

On 3/4/19 Amos crossed the rainbow bridge in his foster mom's arms. Amos had declined rapidly in 2 days. He went to see the Vet and had blood work that suggested stage 3/4 kidney failure. An Ultrasound revealed a stone in his urethra and a tumor on his testicle so he went for his ECHO in hopes to have much needed surgery for the stone, neuter and dental. Unfortunately his little body was too broken and gave out before UYR could give him his second chance. Amos was so sweet and lovable, his little jingle around our home is silent but his spirit will always be present.
Top of page
Addie Livinia

1/31/19 Sadly today we lost Addie Livinia. She had been holding her own but was losing weight despite a healthy appetite. Upon vet examination today, we learned her liver was failing. She had gone into shock and we made the decision to help her to the bridge.
Top of page

Cameron and Abby

Cameron

Cameron 27 November 2003 - 13 October 2018

On Saturday morning, Cameron our Little Man crossed the Rainbow Bridge to join his sister Abby. We lost Abby on 20 December 2017 and Cameron was very sad without his little sister. Cameron remained a constant companion to my wife and I and he always wanted us both in the same room. He loved to ride around in the car and before he was on a special diet, he especially liked to go to the Dump, because the attendant in the booth would always give him a cookie. Cameron loved to have his ears rubbed and was always so brave. He did not want to leave, but was in a lot of pain. Some day we will see each other again.
Top of page