Home
About Us
Yorkie Shoppe
Looking for Love
How You Can Help
Forever Ours
In Memoriam Page
Happy Tails
Thank You
Rainbow Bridge
Board of Directors
F.A.Q.
Volunteer Application
Non-Fostering Volunteer Application
Adoption Application
Request to Surrender
Links
Videos & Slideshows
Counter
4606201
RAINBOW BRIDGE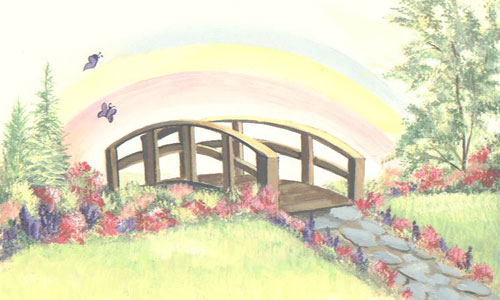 The Rainbow Bridge
Just this side of heaven is a place called Rainbow Bridge.
When an animal dies that has been especially close to someone here, that pet goes to Rainbow Bridge. There are meadows and hills for all of our special friends so they can run and play together. There is plenty of food, water and sunshine, and our friends are warm and comfortable.
All the animals who had been ill and old are restored to health and vigor. Those who were hurt or maimed are made whole and strong again, just as we remember them in our dreams of days and times gone by. The animals are happy and content, except for one small thing; they each miss someone very special to them, who had to be left behind.
They all run and play together, but the day comes when one suddenly stops and looks into the distance. His bright eyes are intent. His eager body quivers. Suddenly he begins to run from the group, flying over the green grass, his legs carrying him faster and faster.
You have been spotted, and when you and your special friend finally meet, you cling together in joyous reunion, never to be parted again. The happy kisses rain upon your face; your hands again caress the beloved head, and you look once more into the trusting eyes of your pet, so long gone from your life but never absent from your heart.
Then you cross Rainbow Bridge together....
Author unknown...
Daisy Diamond

3/23/19 Sadly today sweet little Daisy Diamond who had been doing so well passed. This morning she was taken to an ER facility where they worked to find out what the problem was. Her body temp couldn't be sustained and while all other signs were positive, they couldn't keep her going. She was in an incubator and on a heating pad, but sadly despite heroic efforts, she passed. Foster mom is devastated as we all are.
Top of page
Amos

On 3/4/19 Amos crossed the rainbow bridge in his foster mom's arms. Amos had declined rapidly in 2 days. He went to see the Vet and had blood work that suggested stage 3/4 kidney failure. An Ultrasound revealed a stone in his urethra and a tumor on his testicle so he went for his ECHO in hopes to have much needed surgery for the stone, neuter and dental. Unfortunately his little body was too broken and gave out before UYR could give him his second chance. Amos was so sweet and lovable, his little jingle around our home is silent but his spirit will always be present.
Top of page
Addie Livinia

1/31/19 Sadly today we lost Addie Livinia. She had been holding her own but was losing weight despite a healthy appetite. Upon vet examination today, we learned her liver was failing. She had gone into shock and we made the decision to help her to the bridge.
Top of page

Cameron and Abby

Cameron

Cameron 27 November 2003 - 13 October 2018

On Saturday morning, Cameron our Little Man crossed the Rainbow Bridge to join his sister Abby. We lost Abby on 20 December 2017 and Cameron was very sad without his little sister. Cameron remained a constant companion to my wife and I and he always wanted us both in the same room. He loved to ride around in the car and before he was on a special diet, he especially liked to go to the Dump, because the attendant in the booth would always give him a cookie. Cameron loved to have his ears rubbed and was always so brave. He did not want to leave, but was in a lot of pain. Some day we will see each other again.
Top of page
Scout WV

Scout passed away on Wednesday, September 12, 2018. Scout was only a year old. I was Scout's foster mom and he deserves to have his story told.

Scout came to me on Christmas Eve eve nine months ago. He had bitten his owner when the owner had a seizure. United Yorkie Rescue took a chance on this sweet puppy and he spent the day with me charming people everywhere we went. Within a short time, he started biting my one adult daughter. Then a month later he turned on my daughter that is also in rescue. Up until the moment he bit her, he adored her. I called a very knowledgeable trainer and she felt that the dog may have been abused and may possibly only trust one or two people ever. I could accept that. This little guy had me as his only hope. Scout would be the one I truly rescued.

Scout loved the other dogs. He immediately bonded with my Pit Bull, Beau. About two months ago, Scout and the Pit were standing together in the hall when Scout attacked him. The Pit backed up knowing I would get Scout. A few weeks later he started snarling at the tiny Yorkies and I had to isolate him. He still had lots of great quality time with me and my husband so his life was full.

During this time, many visits and consultations with the vet occurred. She agreed with the trainer that he would only trust a few people, but she began to suspect that a genetic disorder was the cause of Scout's vicious behavior. He was put on Trazodone to help calm him and it was working.

On Tuesday night, Scout growled at my husband. My heart sank. Scout and I slept together in the living room that night and we snuggled and kissed all night. In the morning, he growled at my husband again. I resolved to make him a home in a spare living room and I would be his only caretaker.

I left on an errand and when I returned, Scout was growling at me. I tried to do some of his favorite activites and he was having fun and being so affectionate, but then he would growl again. Finally, he took my thumb in his mouth and growled and put pressure on my thumb, not breaking the skin. I think he was protecting me. He was warning me that he couldn't control his actions. This happened all in a half hour time period. I had to call the vet and tell them I was coming but I had to wait until an overdose of Trazodone took effect. I couldn't get near him. I knew what I had to do. We watched my favorite episode of Gilmore Girls, A Deep Fried Korean Thanksgiving, with a subdued Scout by my side. He was happy to go for his car ride and put his head in my lap for the long ride.

The techs took special care to further sedate Scout so that he wouldn't need a muzzle. It took about thirty minutes for him to fall asleep in my arms. He showed me so much love.

Scout had nine amazing months because United Yorkie Rescue took a chance on him. His life was full of fur friends and people who loved him. He was happy to the end. We did all we could and I have no regrets. Only heartache. RIP my sweet boy. You were dearly loved.
Top of page

Rest in Peace sweet girl. You were loved and cherished

Chloe

9-10-18 Precious little Chloe crossed the Rainbow Bridge today. This sweet girl came to us from the shelter with terminal mast cell cancer. When we took her from the shelter we knew she had an open wound on her upper back and a massive tumor on her left side abdomen, but little did we know it was cancer and she only had a short time left. United Yorkie Rescue vowed to make whatever time she had remaining to be the best of her life. She was given care and lots of love in her foster home. We hoped she would have several months to a year. Little did we now that this morning Chloe would take a turn for the worse. She was rushed to the vet where her oncologist vet and her foster mom decided letting her go would be the most humane thing to do for her. She was suffering, listless, and no longer had any quality of life. So with great sadness she passed over the rainbow bridge in the arms of her foster mom. Chloe, we will miss you. We were too late to save you, but you were loved and cherished while you were with us. Rest in Peace, sweet girl.
Top of page

We will meet again. Thank you for loving me

Daisey

9/7/18 Sweet Daisey crossed the Rainbow Bridge today. This is her goodbye see you again one day letter to her foster mom.

Thank you Foster Mom for all you did for me. I know it was hard but was for the best and now I can be free. I really did feel loved when you were with me. As you know my life quickly changed. Slowly the light I could see began to fade. So I tried to use my senses to make it around. But what you didn't see was that they were also beginning to fail me. I tried my best not to show it. I wanted to make you happy. I didn't want to make you sad or for you to feel sorry for me. I just wanted you to love me for me. Now, though, I don't have to pretend, I can just be free. I can see now and I can feel the grass under my feet. I am running and playing and not bumping into things. I no longer step into my food bowl. I can see and smell it so clearly. Oh, and here I can eat all I want and stay skinny! I know it was hard but believe me, I am really free and my life here is so easy.

I will see you again one day, though I never got to see your face I will know it is you by the love I feel when you get near me. Please do not cry for me....I am in Heaven now and I really am so very happy!

Until we meet again................Daisey

p.s. I even have long hair on my ears now!
Top of page

Opie, we will miss you so much.

Opie

8-24-18 Today sweet little Opie crossed over the Rainbow Bridge. Opie was being treated for heartworms and the vet believes that as the worms were dying several broke off from his heart and lodged into his lungs. He was having great difficulty breathing and was in severe distress. Sadly, and with lots of tears, we knew we had to let Opie go. He will be missed so much by his foster mom and all the wonderful friends he made. Everyone who knew Opie loved him. So long Opie, until we meet again.
Top of page
Adonnis

7/11/18 Sadly today we had to say goodbye to sweet Adonnis. He was in heart failure 3 months ago and today we had to help him to the Bridge. Rest in peace Adonnis.
Top of page

Oliver

Oliver

7/4/18 On Wednesday, July 4th, Oliver was having a very difficult time breathing, coughing, hacking and not getting enough oxygen as evidenced by his tongue turning blue. He was rushed to the emergency vet in Carbondale, IL as we are visiting family in Southern IL. He suffered a bad heart, collapsed trachea and was blind. The emergency Vet said his heart was "thick" and dramatic changes were taking place, complicated by the collapsed trachea and gallstones which had never shown up in any x-rays prior. They put him on oxygen and gave him medication to calm and relax him. There was virtually nothing they could do to save him. He died peacefully with me by his side, knowing he was loved. What a great little boy he was and so happy all the time. He was a great little traveler and enjoyed camping trips in the travel trailer. He is very much loved and missed but playing happily at the rainbow bridge with his many pup friends. I would like to thank UYR for giving me the opportunity to be a part of his life
Top of page
Desi

6/18/18 Sadly we lost sweet Desi today. He had a wonderful foster home for almost 5 years and was dearly loved. He will be truly missed by his foster mom.
Top of page
Bert

6/16/18

An angel has gained his wings. Bert crossed the bridge tonight as his foster Mom tried her best to save him en route to the ER. Bert had a rough life before his rescue in a horrible puppy mill but knew nothing but love since his rescue a little over a year ago. By the time we got him the years of neglect had already taken their toll on his heart and lungs and he was made Forever Ours. Please remember his foster Mom and all of us who knew and loved this precious soul and his BFF Ernie who will be lost without him. Rest In Peace Bert. You were loved by many and your life mattered.
Top of page
Dolli

5/17/18: Sadly little Dolli passed today in her foster mom's arms. Dolli put up a good fight, but it was just too much for her little body. The vet thinks there was more going on inside but she was too small and weak for us to run any tests. Dolli passed away in my arms at 6 today. I want to thank everyone for all their prayers and support.
Top of page

RIP Little Sweet Pookie

Pookie

4/24/18 Sweet, beautiful Pookie crossed over the Rainbow Bridge today. It was a sad day for United Yorkie Rescue. Today little Pookie in Florida lost her battle with Granulomatous Meningoencephalitis (GME). She fought a good battle and was a brave little soul. RIP Sweet Pookie. We just didn't get her in time to save her life. Pookie's foster moms Georgia and Ana and their families and everyone who knew Pookie are just devastated. Her foster families tried for months on end with many different medical protocols and chemotherapy to save her. Finally it was just to much for Pookie and she had a massive seizure. You will forever be remembered sweet, little girl.
Top of page

Julian

Julian

4/5/18: Sadly today we had to help Julian to the Rainbow Bridge. Here is what his foster mom wrote:

Despite all our efforts, we couldn't fix what was broken with sweet Jules. It kills my heart that people are so neglectful and cruel, and when we pick up their discards, and even if it's only for a month as it was for this sweet baby, that he wasn't able to have his furever home as he so deserved because of their inhumane actions.

Sweet Julian was only 6.5 years old and weighed around 5 lbs. He seemed to be in fairly good shape compared to his sister Helen who is also in our care. He had a cough, bad eyes, definitely needed a dental and of course a neuter, but those things seemed fixable. It was the following week and the week after that the true ills showed themselves. An x-ray showed Julian had a collapsing trachea that was the worst I have ever seen, but more so, he had the largest heart and lungs so scarred that they looked like a human with emphysema or chronic bronchitis. Very soon after that x-ray, Julian woke up lethargic. I rushed him to the vet and he was very dehydrated. Immediately fluids were pushed and each day the doctors worked to try to get his system in balance. Sadly, Jules went into heart failure; he could not stay infused and he went into kidney failure. His little body was going downhill each day and he was not going to win this battle. This afternoon, my heart broke to see him suffering, I knew it was time and I gave him to God.

Julian blessed us in the short little time we had with him. He loved to snuggle in the bed under the covers and he loved to cuddle up against my hubby's back. He loved my pack, he loved cats and he was the sweetest curious little boy. Although he will never have an earthly furever home, I'm sure his little eyes are finally seeing a beautiful place at the bridge and he is finally home. I love you my baby Jules...❤
Top of page

Ozzie has crossed the Rainbow Bridge

Ozzie

Sad news, we had to help Ozzie to the Rainbow Bridge on February 2, 2018. We think he was in the beginning of kidney failure and he had had a stroke in June of 2016 and made his back legs very weak. He could hardly walk but hung in there. He was a wonderful little guy, never complained about anything, easy come and go. He was just "THE BEST" little guy ever. Geoff and I want to thank United Yorkie Rescue for letting us be his parents, I loved every minute and would definitely do it again.

He was UYR's first liver shunt dog.
Top of page
Paco

3/10/18 Sadly we had to help sweet Paco to the Rainbow Bridge. In addition to all his various ailments (Cushings, prostate cancer), Paco's kidneys began to shut down. Paco's foster mom, after a few sleepless nights with him, got him to the vet today and a difficult decision was made to help him to the bridge.

Foster mom did a wonderful job with this poor boy who came to us with so many issues. She loved him dearly. RIP Paco and run free again,
Top of page
Baby

2/9/18: Our sweet foster girl, Baby, crossed the Rainbow Bridge on 2/9/2018. She came to live with our family in October 2017. We knew that she was not well at the time she came into our rescue. We went to the Veterinarian and Baby was diagnosed with severe liver disease and uncontrolled Cushing's disease. Baby was also deaf. Our vet said she has been sick for a very long time. We knew that we would need to be aggressive with her treatment. Baby did really well on her Cushing's medication for the first several months and her labs improved. We had a great fall and holiday season.

Baby loved taking car rides. Even though she could not hear she knew when it was time to take the girls to school, go to Sonic or visit Hobby Lobby for Christmas decorations. Several weeks ago, on a mild winter Saturday, Dad, Baby, human sis Ellie and doggie brother Tate all went to the dog park. Baby had so much fun. She galloped and barked and met new friends. It was a beautiful day that we will not forget.

Over the last couple of weeks Baby's health seemed to be declining. She just did not act like her usual self. We took her in to see the vet and he completed labwork, fluids and observation. After the labs came back the worse was realized, Baby's liver and kidney's were failing. The decline was rapid. The vet said had suffered to much damage to her liver. We made the decision to help her cross the Rainbow Bridge. Even though Baby was with us only a short time she was a blessing to our family. We are going to miss her so much.
Top of page
Poppa

1/21/18 Sadly today sweet Poppa had to be helped to cross the bridge. He was suffering with bloody diarrhea, had a brain tumor and was suffering.
Top of page
Gizmo

1/10/18: Gizmo lost his breathing battle with an uncommon form of trachea stricture on January 10, 2018. Gizmo came into his UYR foster home a beloved pet of an elderly person in terms of food but not in good health. When foster parents first welcomed Gizmo into their home, he would not eat. It was discovered that he had a very serious gum infection and weight problem. (He weighed 13.4 pounds.) Despite his health issues, Gizmo was an fighter and enjoyed life. Gizmo responded well to the initial antibiotic treatment for his gum disease. He ate, played, and just enjoyed his new home. He went in for a much needed dental and had 9 teeth extracted. He was doing well, but it soon become apparent that he was having problems breathing. Poor little guy had a pneumonia and was treated for it. However, he still continued to gasp for breath. Foster parents rushed him to Blue Pearl in Louisville on December 30. He was put in an oxygen tent and slowly came around to breathing normal. The ER vet fell in love with Gizmo and vowed to do everything she could for him. He was given medication and seemed to be doing well. The internist, another vet who fell in love with the wonderful dog, at Blue Pearl worked with him to see exactly what could be done for Gizmo. Medication was the first option as an operation to insert stents was extremely risky. Sadly, this cute little gent continued to have breathing issues. He was rushed to Blue Pearl on January 10 at 3:30 AM. He responded to the oxygen tent treatment, but several hours later started to crash. It was with great sadness to lose Gizmo. He so loved to give his foster Dad kisses and lay in his lap for belly rubs. Foster Dad was the "Gizmo Whisperer". There was a special bond between Gizmo and foster Dad, and he is greatly missed.
Top of page